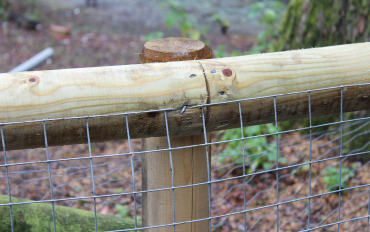 The Ultimate Guide to Wire Gauge Sizes
Learn how to measure wire gauge and determine which gauge you need for the job
Struggling to know or understand which wire you need for the job at-hand? We've got you covered with this handy guide explaining what wire gauge is and which gauge is most suitable for various different applications, such as chicken fencing, tree guards, dog fencing, bird aviaries and deer fencing.
What is wire gauge?
Wire gauge is the measurement of the diameter, or thickness, of wire, determining the amount of electric current a wire can safely carry, as well as its electrical resistance and weight. The main point to take home is that the larger the number, the smaller the wire. A 20-gauge wire, for example, is thinner than a 9-gauge wire.
Which gauge is best for my application?
Generally, a low-gauged, thicker wire is best used for heavy animals that will test the strength of a fence by pressing into the wire such as foxes and dogs. High-gauged, thinner wire is most effective with small, lightweight animals, making it the ideal choice for chicken runs, rabbit protection and bird aviaries. Check out the dimensions and products available for each gauge below:

If you have any other questions or queries about our wire products, please contact us on sales@sure-green.com or 01376 503869.