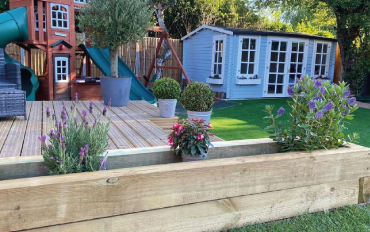 8 Ways to Give Your Garden a Makeover
The sun has finally made an appearance, meaning it's time to get out into the garden and start on that project you've been putting off for so long.
Today, we will be sharing 8 ways to give your garden a makeover and bring it back to life after a very wet winter!
1. Remove unwanted weeds
An easy way to make a real difference to your garden is to tame the plants and remove any unwanted weeds. Be sure to remove any dead or unhealthy plants, to make space for new ones and to give your garden a new lease of life. Now is also the time to carefully dig up (keeping roots in tact) any healthy plants which have outgrown their homes, and replant them elsewhere in your garden. To suppress and control future weed growth, opt for our Weed Control Fabrics. These non-woven geotextiles act as a barrier and can be used under mulch, garden gravel paths, driveways, drives, decorative layers such as bark chippings, stone chippings, pebbles or gravel and much more!
2. Add a raised planter or vegetable bed
Our Timber Railway Sleepers are ideal for creating raised vegetable beds to encourage plant growth, protect your plants from pests and to keep your grass and fertiliser separated. Using raised beds also makes it easier to clean the soil and ensure its full of nutrients for your veggies. You can even use Weed Control Fabrics to prevent weeds from taking over!
3. Address lawn irregularities
If your lawn is in need of a spruce, try our chemical-free and peat-free Melcourt Lawn Dressing. It consists of a very fine blend of loam and sand used to improve the growth and colour of lawns after scarifying or seeding. Melcourt Lawn Dressing is also commonly used to address minor irregularities in the lawn's surface.
4. Use decorative planters & pots
Planting colourful flower varieties in planters and pots is an excellent way of sprucing up any garden, no matter its size! Planters and pots are also ideal for creating visual boundaries around your garden and framing entrances - simply place a planter either side of a door or entrance to create an inviting look! Our Faux-Lead Planters come in a variety of shapes, sizes and designs so we are sure to have the right planter for your gardening project!
5. Complement with a garden border
Garden borders are a real staple for any garden revamp. They hold the power to completely transform your garden and create a crisp, defined border between grass and flower beds or pathways. We offer Timber Edging, Bamboo Edging and Timber Railway Sleepers to suit a wide range of styles and needs to create your ideal garden border.
6. Refresh with new mulch
A fresh layer of mulch is sure to make your garden look polished and healthy. Fresh mulch not only makes flowers and plants stand out, but it also helps to maintain soil temperatures for a healthier garden. If you have trees growing out of your lawn, dig a shallow ring around them and add mulch for a professional landscaped look. We offer a a wide range of Melcourt Landscaping Mulches, which are both FSC-certified and endorsed by the Royal Horticultural Society.
7. Add a decorative finish with potting grit
Give an attractive finish to pots, containers, rockeries, ponds, aquariums and alpine plantings using our Melcourt Potting and Coarse Grit. Not only are these multipurpose grits ideal as a decorative top dressing for cacti, succulents and alpines, but they can also be incorporated into compost mixes to improve drainage. Our Coarse Grit has a nominal particle size of 2-6mm, whereas our Potting Grit is a finer grit with a nominal particle size of 1-4mm.
8. Cover bare fences with climbing plants
Adding trellis and growing climbing plants is a great way to cover bare fences or shady areas that would otherwise not home plants. Plants that will grow well even in light shade include clematis, Virginia creepers and Boston Ivy varieties, honeysuckles and climbing hydrangeas. Support these plants by creating a strong trellis using our Bamboo Canes!