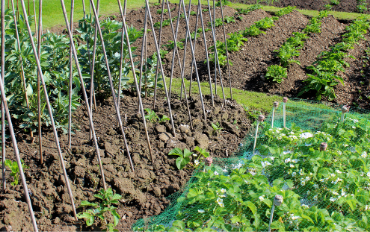 Top Tips for Protecting Plants In Your Garden
Whether it's weeds, pests, diseases or the weather, plant protection can be a serious problem for vegetable gardens! Luckily for you,
the Suregreen team have been busy collating their top tips for keeping your plants healthy and happy all year round!
Fruit & Vegetable Cages
Fruit and Vegetable Cages provide a convenient and flexible system for protecting fruit and vegetables from pests such as
birds and butterflies. Quick to install and dismantle once the growing season is over, what's not to love?
Anti-Bird Netting
Our Anti-Bird Plastic Netting has a green, diamond design and is an economical solution for protecting crops, fruit
and gardens from birds and other common pests including mice, rats, squirrels and rabbits.
Windbreak Fencing Mesh
Our Windbreak Fencing Mesh reduces wind speeds through its mesh apertures, helping to protect crops, plants,
animals, nurseries and more from heavy winds by 50%!
Butterfly Netting
Butterfly Netting protects vegetables from butterflies and birds. The 8mm mesh holes stop butterflies from
being able to lay their eggs, as the resultant caterpillars can cause damage to young vegetables.
Plastic Garden Mesh
Our Plastic Garden Mesh is available in hole sizes of 50mm, 20mm and 5mm. It can easily be attached to fencing posts or mounted
onto frames, making it ideal for protecting seedbeds, protecting trees from roaming animals and as a climbing plant support.