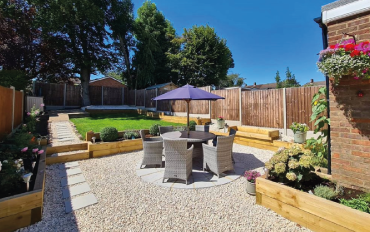 How to Use Railway Sleepers in Your Garden
Whether you're looking to create a raised planter bed, border edging or a garden bench, our Timber Railway Sleepers are a versatile garden essential!
Garden Furniture
A bench made from Timber Railway Sleepers can make a great rustic addition to any garden or patio.
You could even try making a Timber Railway Sleeper coffee table, picnic set or L-shaped seating area!

Lawn Border Edging
Setting single-level Timber Railway Sleepers low into the ground is a popular way to create a clear, neat and defined border
between lawns and gravel paving areas. Why not check out our range of Gravel, Chippings & Stones?

Steps & Pathways
Timber Railway Sleepers make an excellent alternative to brick and concrete steps.
Top Tip: Use Wooden Stakes and Timber Screws to secure them into the ground!

Raised Beds
Raised flowerbeds and vegetable gardens are one of the most popular uses of Timber Railway Sleepers.
Top Tip: To supress and control weed growth in your raised bed, lay Weed Control Fabric at the base. You're welcome!