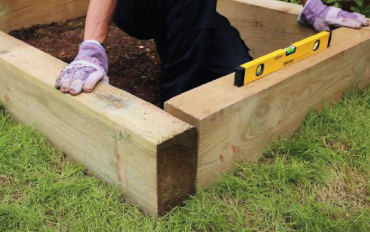 How to Build a Sandpit with Timber Railway Sleepers
Bring the beach home this summer! Building a sandpit in your garden is a quick and easy way to provide your children with hours of enjoyment within the safety of your own garden. The project should only take an afternoon from start to finish to complete. This handy guide will demonstrate how to make a 1-layer, 8x4 foot sandpit using the following:
• 2 x 2.4m Timber Sleepers
• 2 x 1.2m Timber Sleepers
• 8 x 150mm Timber Screws
• 1 x Hex Driver Bit
• 1 x Weed Control Fabric
• Playsand (450 Litres)
As these are sawn-cut sleepers, you may also want to give them a quick sand down to remove sharp edges and avoid splinters.
1. Prepare the ground for the sandpit
Once you have decided on the size and position of your sand pit, you will need to prepare the ground to ensure that it will sit level on the ground. Begin by removing turf (if applicable) and then level the ground using a rake and spirit level. Be sure to remove any stones and make sure that it is a smooth and safe area. Alternatively, you may choose to build your sleeper sandpit on a readily prepared patio or decking area. Be sure to check if the area can bear the weight of the sleepers, sand and children when in use.
2. Place the sleepers on the ground and fasten them together
To begin constructing your sleeper sandpit, lay 2 x 1.2m sleepers and 2 x 2.4m sleepers over the prepared area, in a rectangular shape, with the narrowest sides on the ground and facing upwards. Use the spirit level again to ensure that they are not tilted. Next, use two 150mm timber screws at each corner to attach the sleepers together. 50mm of the length of the screw needs to drill into the adjoining sleeper to create a solid connection.
3. Attach a plastic membrane to the sleepers
Cover the bottom of your sandpit area and inside edges with weed control fabric, to prevent any unwanted weeds growing through and to contain the sand.
4. Fill the pit with sand and let the kids enjoy!
Fill your pit with playsand and let the kids enjoy, while you sit back and relax! For an 8x4 foot sleeper sandpit, we recommend using approx. 450 litres.
You may also want to cover the sand pit when it's not in use, to avoid leaves filling the pit or attracting the local cats!
You may also find the following ironmongery products useful: