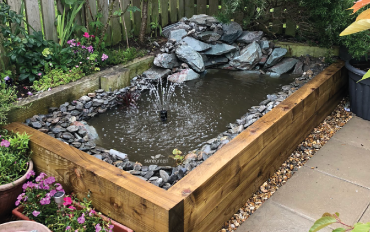 How to Build a Raised Pond with Railway Sleepers
Ever dreamed about having a pond in your garden but thought it would be too much work? Building a raised pond using railway sleepers is surprisingly straightforward! In this handy guide, we'll be showing you just how easy it is to build a raised pond, with minimal tools required.
To build a 2-layer, 8x4 foot raised pond, you will need:
• 4 x 2.4m Timber Sleepers
• 4 x 1.2m Timber Sleepers
• 16 x 150mm Timber Screws
• 8 x 250mm Timber Screws
• 1 x Hex Driver Bit
• Pond Liner
• Slate Chippings / Cobbles
• Anti-Bird Netting
1. Lay the sleepers on the ground and fasten them together
To begin constructing your raised pond, lay 2 x 1.2m sleepers and 2 x 2.4m sleepers in a rectangular shape, with the narrowest sides on the ground and facing upwards. Use the spirit level again to ensure that they are not tilted. Next, use two 150mm timber screws at each corner to attach the sleepers together. 50mm of the length of the screw needs to drill into the adjoining sleeper to create a solid connection.
2. Add another layer to the raised pond
Now you have secured your first layer, it is time to add a second layer so that the raised bed is deeper from the ground. To create the second layer, we recommend individually laying each of the sleepers on top of the box you have created, overlapping the joins as if you are bricklaying. Create one corner and screw these together before adding the remaining sleepers to create the same rectangular shape.
Next, attach the layers together using 250mm timber screws, drilling down from the top to secure the two layers together.
If you want more layers, simply repeat this stage until you have achieved your desired height.
3. Attach a pond liner to the sleepers
To hold the water inside the raised pond, attach a pond liner to the sleepers and fix in place.
If the liner is folded over the top, you may want to fix an additional railway sleeper on top of it to hold the liner in place and to hide it.
4. Make your pond wildlife friendly
Add large cobbles or slate chippings to ensure the wildlife can easily climb out of the pond.
If you have trouble keeping birds away from your fish, it may be wise to cover your pond with anti-bird netting.
You may also find the following ironmongery products useful: