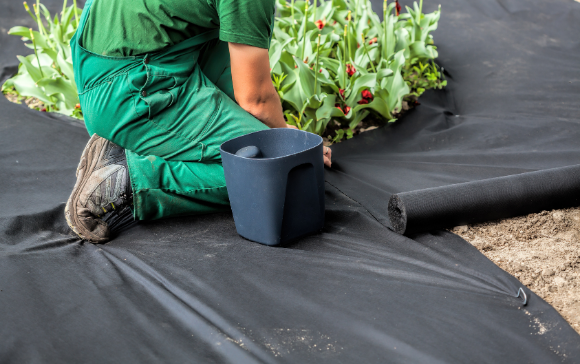 Benefits & Tips for Using Weed Control Fabric in Your Garden
Whether you're a professional landscaper or simply enjoy gardening, weed control fabric has been a trusted favourite when it comes to preventing Rhizome and weed growth. You may have heard about this product before as; weed membrane, weed barrier, landscape fabric, geotextile membrane and weed protection. If you're new or just getting into gardening and fed up of spending more time pulling up weeds than actually planting, then you have stumbled across the right place as weed control fabric might just be your new favourite tool!
In this handy guide, we've pulled together:
• An overview on what weed control fabric is and when to use it;
• The benefits of using weed control fabric in your gardening and landscaping applications; and
• Our top tips for installing weed control membrane.
What is weed control fabric?
Weed control membrane such as WEED-DEFENDA 50 and WEED-DEFENDA 70 is a permeable, non-woven geotextile fabric used to suppress and control weed growth without the need for harsh chemicals and weed killers. Being a permeable fabric, WEED-DEFENDA offers excellent drainage and filtration capabilities, meaning nutrients, air and water can still pass through to the soil.
What is the best weed barrier fabric?
The best weed barrier fabric depends on how you plan to use it. WEED-DEFENDA 70 is ideal for full weed and Rhizome suppression or for use under artificial grass and domestic patios. Meanwhile, WEED-DEFENDA 50 is best suited to gardening applications under mulch, paths, raised beds, sandpits and decorative layers such as bark, stone chippings, pebbles and more.
When should I use weed control fabric?
WEED-DEFENDA can be used for a wide variety of landscaping applications, including:
• Flower, shrub and vegetable beds
• Under slabs on domestic patios
• Play areas under bark mulch
• Gravel paths and walkways
• Under artificial grass
What are the benefits of using a weed control fabric?
There are a number of benefits for using a weed control fabric such as WEED-DEFENDA in your gardening, including:
1. No need for harsh chemicals such as herbicide that could potentially harm your plantlife or pets
2. Prevents weed seeds from germinating in the soil or from landing and taking root from above the soil
3. Easy to install and maintain, contributing to low maintenance gardening
4. Helps to retain moisture by allowing water, air and nutrients to pass down to the soil to feed desirable plants
Top tips for installing weed control fabric:
For our full downloadable WEED-DEFENDA installation guide, please visit our Technical Area here.
Shop our full weed control range: