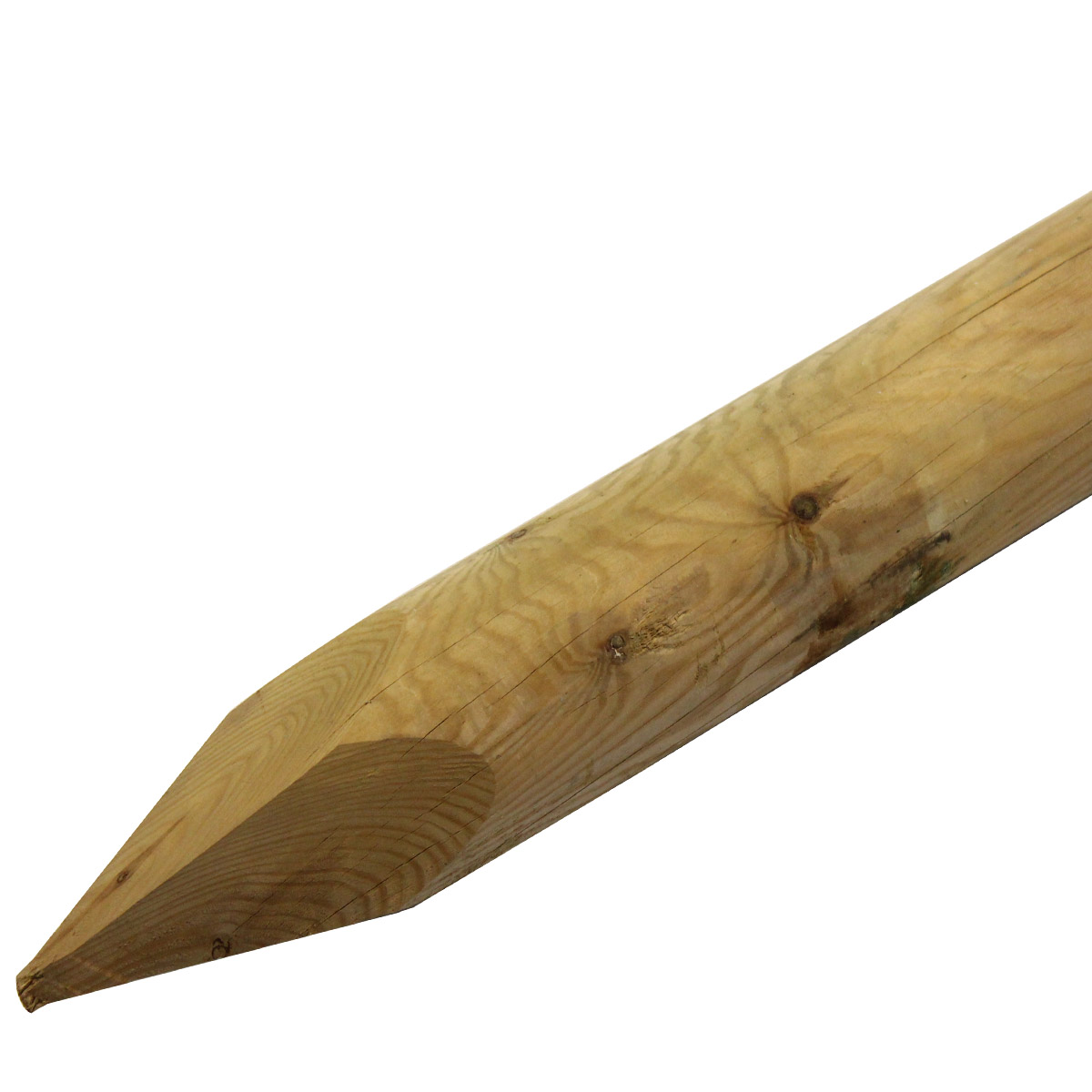 Introduction to Fencing Posts - Machine Rounded
Suregreen machine rounded fencing posts are treated softwood stakes which are ideal for garden fences, wire fencing, agricultural fencing, wire mesh, boundary field fencing, chicken wire runs. These machine rounded posts have a decorative chamfered top and a pointed base for easier installation, although alternative designs are available for bulk orders; please contact us directly for more information. Not only are these timber posts used for fencing purposes, but they are also commonly used as tree support stakes for young sapling trees or tree shelter tubes. We have a wide range of posts to offer ranging from 1.2m to 2.4m in length and in a variety of different diameters to fit almost all applications.
 All Suregreen machine rounded fencing posts are tanalised treated with a wood preservative treatment to provide long-lasting protection and to reduce damage caused by fungal decay, insect attacks and rotting caused by water. Although the life-span of timber is heavily reliant on the conditions in which it is used, we have found that our standard green tanalised treatment, under traditional circumstances, will prevent rotting for up to 8-15 years.
 Features & Benefits
Tanalised treated - All posts are pressure treated giving 8-15 years of protection against rotting.
Chamfered top - A simple decorative top giving a more attractive finish to the post.
Pointed base - The pointed base allows for easier installation.
Manufactured from softwood – A quality, cost-effective timber
Available in different diameters - Thinner posts are ideal for lightweight fencing, or tree stakes, thicker posts are ideal for anchor posts or heavier duty agricultural fences such as stock fencing.
Recommended Products
Galvanised Welded Wire Fence Mesh Rolls
SKU: 430875-434897
Weight: 6kg-36.4kg
Length: 30m, 15m, 10m
Height: 0.9m, 1m, 1.2m, 1.6m, 1.8m
Hole Size: 25mm x 25mm, 50mm x 50mm, 13mm x 13mm, 25mm x 13mm