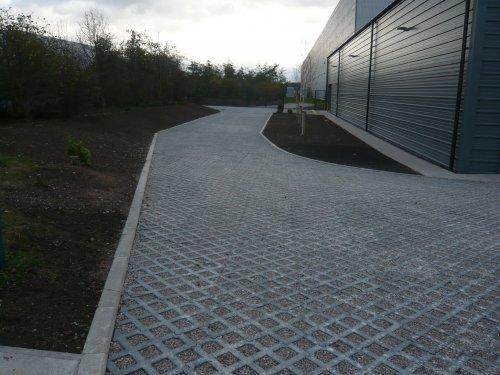 Truckgrid-Max HGV Access Route - Doncaster
Ground Stabilisation - Case Study
View Truckgrid Max Technical Documents
Challenge
The staff building at a new Doncaster retail outlet has a loading bay that needed access by HGV trucks, transit vans and parcel delivery lorries.
To get planning permission, the new access road and turning point needed to conform to the latest SuDS requirements (Sustainable Urban Drainage Systems). It needed to be a fully permeable surface which also needed to obtain the best BREEAM rating possible (meaning that the product used needed to have the lowest environmental impact). The access road mustn't contribute to water runoff and needed to be able to manage the dynamic loadings imposed by regular trafficking of trucks weighing up 32 tonnes over two axles.
Finally, the access road needed to require little or no maintenance and to be secure in all weathers and temperatures.
Solution
Truckgrid-Max, a heavy-duty, thick plastic permeable paver, was chosen for this project and was to have a gravel finish.
Truckgrid-Max is made from fully recycled plastics which helped the client to achieve their environmental objective. It provides ground stabilisation for heavyweight vehicles and HGVs while also providing a permeable paving solution, allowing surface water to permeate through the paving into the sub-base below or as part of a source control system. Truckgrid-Max is hardwearing and has a high resistance to frost, giving the access road an exceptionally long working life.
The access road and turning point were created following construction profile guidelines available in our Technical Documents area.
Benefits
Using Truckgrid-Max, the access road met the latest SuDS regulations, was fully permeable and was cost-effective to install. Increased costs to install extra drainage on site was avoided and the ecological impact was kept as low as feasible.
Laying the permeable pavers was labour-saving and safer to lay as the weight of each piece of the Truckgrid-Max means it can be lifted and installed by one person.
With Truckgrid-Max being UV-stabilised and frost-resistant, the client now has an access road and turning point which are long-lasting, stable and in-keeping with their initial requirements.