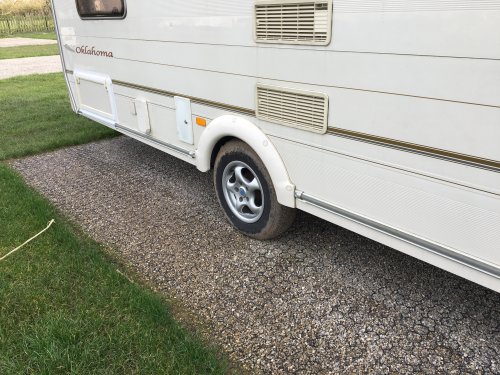 PP40 Towing Caravan Pitches - Mablethorpe
Ground Reinforcement Matting - Case Study
View PP40 Technical documents
Challenge
Country Meadow Caravan Park was expanding and wanted to move from a seasonal, summer-only intake to catering for caravaners all year round.
There were three main issues which were impacting the development:
● the existing bad drainage on site● keeping to latest SuDS regulations regarding water runoff● the overall cost.
The solution chosen needed to be self-draining and porous, able to handle the year-round loadings imposed by the caravans, and cost-effective - all while meeting the local planning demands.
Solution
PP40 Permeable Pavers with a gravel fill were chosen to meet the on-site requirements. PP40 is a hard-wearing paver designed to provide a hardworking surface that is both porous and robust, and the cell design makes it perfect for locking and retaining gravel. A porous hard-core base was laid to support the PP40, then a mixed size angular gravel was used for the bedding and to fill the PP40. The designed construction profile was based on the guidelines available in our Technical Documents area.
Benefits
Country Meadow Caravan Park now has pitches available that can be used throughout the year in all weather conditions. The site can now fulfil more bookings than ever before and has unlocked the true potential of this in-demand caravan site.
The overflow gravel pitches are self-draining and conform to the latest Sustainable Urban Drainage requirements (SuDS), reducing any water run-off issues and making the pitches truly all-weather.
The overall costs were reduced as no extra outlays for additional overflow drainage was needed, and the pitches keep maintenance costs to a minimum.
The gravel-filled porous paver is visually good looking and in-keeping with the natural look and feel that the Country Meadow Caravan Park was trying to achieve.