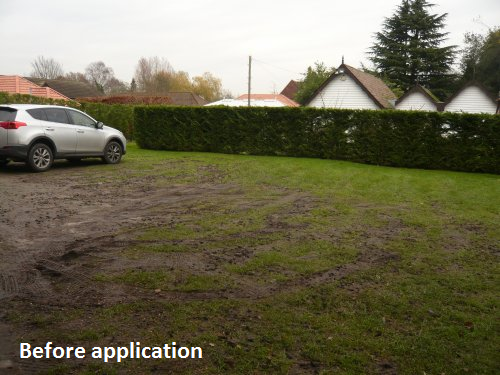 PP40 & GR14 Car Park - Shirley, Croydon
Grass Parking Mesh - Case Study
Plastic Protection for Cars
Challenge
Oaks Farm is a popular, sought-after wedding venue. Up until recently, their main business was during the warmer months - mainly at weekends - but demand has been steadily increasing. The pressure was on to accept more bookings during weekdays and into the cooler months of the year.
Unfortunately, they had two problems with parking on site. The old, stoned main car park was showing signs of wear and tear and was becoming unsuitable for everyday use, and the grassed areas used for overflow parking were showing signs of damage from car movements.
Oaks Farm is a wedding centre set in beautiful surroundings in a green area, so it was paramount that the solutions were both pleasing to the eye and in keeping with the surroundings.
Solution
For the main car park, PP40 plastic porous pavers with a gravel finish were selected. The gravel-filled PP40 allowed everyday car parking even for the people carrying occasional heavier vehicles. The PP40 porous pavers with gravel also met the aesthetic requirements whilst meeting the latest SUDS regulations for flood prevention as the resultant car park surface was permeable.
For the grass overflow car parks, GR14 grass reinforcement mesh was selected. The GR14 grass reinforcement mesh gave strength, stability and protection to the grassed areas so cars could be parked on them without the smearing and rutting that would have caused had nothing been there.
Benefits
With the installation of the PP40 permeable plastic pavers and GR14 grass reinforcement mesh, the customer was able to expand his acceptance of new business with a peace of mind regarding car parking issues. The gravel car park and grass parking areas have been kept in accordance with the local surroundings and allowed the desired ambience necessary for a wedding venue.