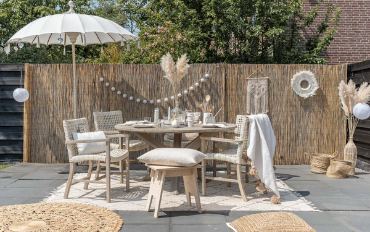 High quality fencing solutions for your garden
At Suregreen, we offer high quality fencing that is both practical and attractive to suit different styles
and needs. Our range includes fence posts and rails, plastic garden fencing, bamboo screening, border
edging and much more! In this guide, we'll be sharing our top fencing ideas that you can use in your garden:
Bamboo Screening
Split Bamboo Screening is ideal for use in the garden as a decorative screen, to disguise walls, to improve the look of an
existing garden fence, for dustbin storage or to separate seating areas.
Lawn Border Edging
Eye-catching and long-lasting, Timber Log Lawn Edging is used to create a crisp, defined border
between grass and flower beds. We also supply Bamboo Lawn Edging!
Plastic Garden Fencing
Plastic Garden Mesh is ideal for many applications in the garden including creating dog
enclosures, pet runs, garden fencing, boundary fences and plant supports.
Arch Top Border Fencing
Arch Top Border Fencing is ideal for garden borders, allotments, lawn edges, pathways and other garden features.
Made from thick, galvanised steel wire which has been coated with green PVC, it is an attractive yet practical option.
Fencing Posts and Rails
We supply a wide range of Fencing Posts and Rails, along with Straining Line Wire, U-Nails,
Barbed Wire and Fencing Tools to help you create a secure and long-lasting fence!
Our garden fencing range doesn't end here - we also offer Electric Fencing, Rabbit Wire, Chicken Wire,
Picket Fencing, Welded Wire Panels and more! For more information, please contact us on: