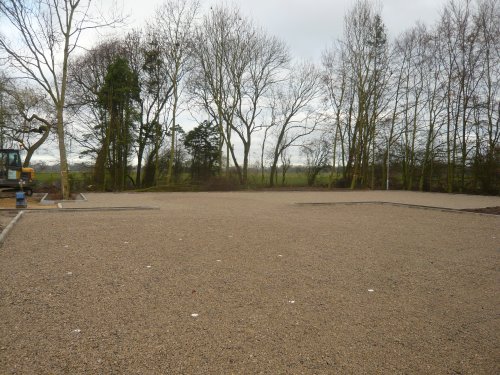 PP40 Overflow Car Park - Stockton, Yorkshire
View PP40 Technical Documents
Challenge
Deans Garden Centre is a busy, growing garden centre attracting business all year round - especially over the Christmas period. There was an existing grassed area that could be used over the summer months for car parking, but it wasn't able to be used during the colder times of the year to drainage issues. It would simply turn to mud and become rutted, making it not only difficult for drivers to navigate but would look unsightly.
A solution was sought that would allow car parking throughout the year, would be self-draining and would meet latest SuDS regulations (in relation to not adding to potential run-off water at times of heavy rainfall).
Solution
PP40 Porous Pavers with a gravel fill were chosen to meet the requirements on site. A porous angular stone sub-base was laid to support the PP40, and mixed size sharp and angular limestone gravel was used for the bedding and fill of the PP40 plastic pavers. The overflow car parking area confined using concrete kerbs.
Benefits
Deans Garden Centre now have available a car park that can be used throughout the year at peak times in all but the most severe weather conditions. The PP40 plastic porous pavers, installed with gravel finish, has allowed the garden centre to handle extra intense periods of trafficking by cars and to be used safely by pedestrians.
The new overflow gravel car is completely self-draining, conforming to the latest Sustainable Urban Drainage requirements. Overall costs were reduced due to no extra outlays for additional overflow drainage. The car park was designed to keep maintenance costs to a minimum and was in keeping with the surroundings.