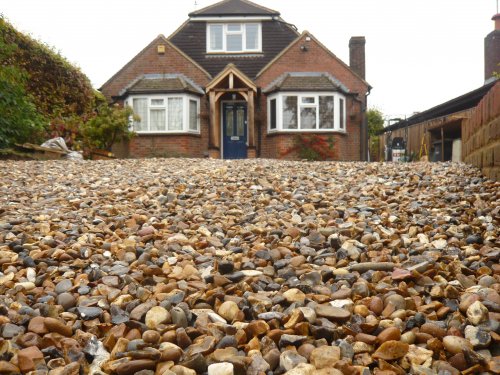 PP40 Driveway Renovation - Redborn, St. Albans
View PP40 Technical Documents
Challenge
The end client needed to upgrade their domestic drive which had become tired and unsightly. They also wished to expand the driveway's hardstanding area to allow an extra car to park there every day. To meet the latest SuDS requirements and the planning on new changed areas over 5m2, the expanded area needed to be self-draining and porous and the extended driveway must not contribute to additional urban flooding from surface water run-off.
They wanted a surface that made a noise when walked or driven over - a specific request due to the client and some surrounding properties having previously been burgled. The gravel driveway still needed to look pleasing to the eye and needed to be as low maintenance as possible.
Solution
PP40 permeable paving was chosen to meet the requirements on site. A porous angular stone sub-base was laid, and the PP40 plastic grids were laid on to a mixed size sharp and angular gravel bedding. They were then filled with the specified angular gravel size.
Benefits
The client now has a driveway that allows car parking for the entire family while still being appealing to the eye. The gravel contained in the cells of the plastic gravel grid is stable and locked in situ. This is achieved due to the special cell design of the PP40 permeable plastic grids which ensure the gravel interlocks with itself to provide a maintenance-free parking area.
The new driveway is fully permeable will not contribute to any flood risk in the future. Moreover, the gravel driveway has now become a deterrent against would-be burglars because of the noise made from foot or car movements.