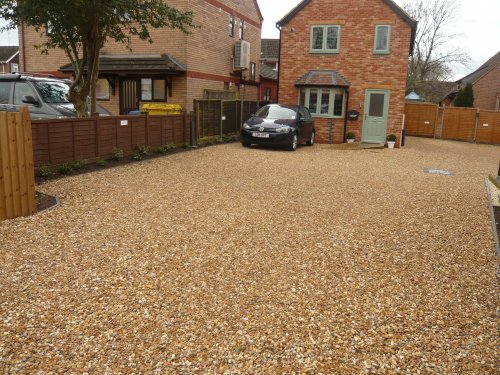 PP40 Courtyard & Driveway - Wellesbourne, Warwick
Water Permeable Driveway - Case Study
View PP40 Technical Documents
Challenge
The residents of the Wellesbourne near Warwick residential properties needed to upgrade their shared courtyard which had become rutted, unsafe and unpleasant. For the upgrade, the occupants of the houses wanted a hardworking, attractive courtyard surface that would be around for many years and cope with pedestrian traffic, vehicles and cars. They also wanted a courtyard that needed little maintenance, that would not contribute to flooding, and that would keep costs to a minimum.
Solution
PP40 permeable paving grids were chosen to meet their requirements. A fully permeable, robust and durable surface was generated and finished using a mixed size angular gravel. The plastic pavers are filled with an angular gravel, and the paver design means that the gravel locks into itself to provide a stable surface which will have minimal gravel spillage. The hardworking and reinforced area free-drains, in keeping with SuDS regulations.
Benefits
The residents now have a courtyard that allows for safe car parking for themselves as well as for visitors. The porous plastic paving grids retain the gravel in the pavers' cells and are strong enough to be used as a fire engine emergency access route.
At the same time, the finished gravel surface is firm and level enough for wheelchair movements as the gravel contained within the gravel grid produces a smooth and locked surface. The open-cell structure of the interlocking permeable plastic pavers allows rainwater to permeate through into the sub-base below, then drain naturally without puddles forming on the surface or creating potential flooding risks.
Moreover, the gravel courtyard has now become a deterrent against would-be burglars because of the noise that would be made from foot or car movements.