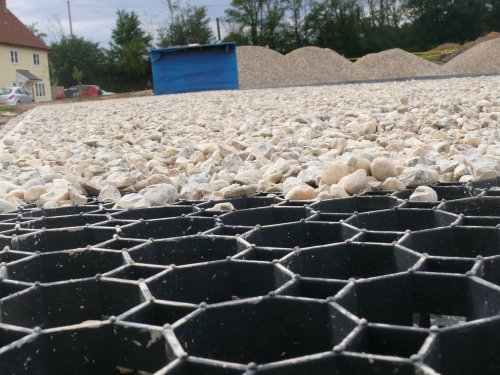 PP40 Car Park - Manuden, Essex
Low Maintenance Driveway - Case Study
View PP40 Technical Documents
Challenge
The New Manuden Community scheme is a mixture of new housing (luxury and social), a new community and sports centre and newly constructed playing fields. The sports field was to be used for winter sports as well as in the summer. This meant that the area's parking needs had increased and was needed all year round, with additional spaces required for visitors of sporting events.
For the housing and community hall, a tarmac car park had been laid for daily parking needs, but they also needed extra parking for the spikes of intense periods of trafficking for social events.
The parking solution needed to be self-draining and porous to meet latest SuDS regulations and to reduce costs for additional drainage. It also needed to be as low-maintenance as possible.
Solution
PP40 Permeable Pavers with a gravel fill was chosen to meet the requirements on site. A porous sub-base was laid, and then the PP40 plastic permeable pavers were laid onto a mixed-size, sharp and angular gravel base to a designed construction profile. The PP40 was then filled with the same gravel that was used for the bedding. The parking area was confined using 150 x 50mm concrete pin kerbs.
Benefits
The above solution meant that an overfill car park was laid that met the levied demands. The car park could be used throughout the year in all but the most severe weather conditions, and it's robust enough to handle very intense periods of trafficking by both cars and pedestrians. It is also completely self-draining to meet the latest SuDS requirements, meaning costs were reduced as there was no need for additional overflow drainage. The car park was also designed to keep maintenance costs to an absolute minimum.