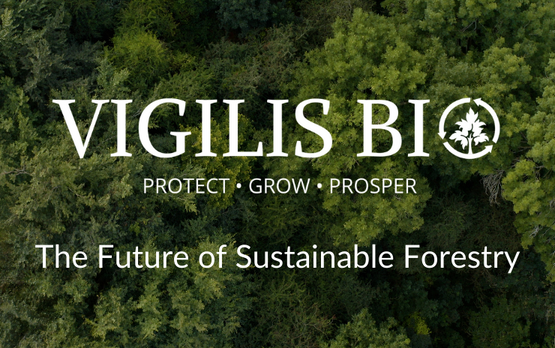 Introducing Vigilis-Bio: The Future of Sustainable Forestry
Do you envision a forestry industry free from plastic waste?
Over the last two years, with the aim to tackle one of the forestry industry's plastic pollution challenges and support the UK's afforestation efforts to reach carbon neutrality by 2050, Suregreen and its partner Biome Bioplastics Limited have made significant investment in R&D to bring the new Vigilis-Bio range of biodegradable tree shelters to market. These shelters are now ready for large scale UK-wide field testing and initial commercial sales.
Extensive lab testing and accelerated weather-ageing assessments have demonstrated that the novel solution, manufactured by Suregreen using Biome's proprietary bioplastics material, performs as well as conventional tree shelters to guard and protect the first five years of a tree's life. However, unlike their traditional counterparts, Vigilis-Bio tree shelters do not need to be collected for disposal at the end of their useful life. Instead, they slowly fragment into small pieces where the soil bacteria completely breaks them down in the span of two years, leaving behind only CO2, water and a few naturally occurring minerals. Interested to know more? Get in touch with us today to find out how you can take part in the trials or to request CPD training sessions by completing our enquiry form here.
Watch the full story here:
FUNCTIONAL PERFORMANCE
The physical shapes of Vigilis-Bio biodegradable tree shelter are identical to the original product range:
A strong twin-wall structure
Comparable mechanical properties
Translucent walls to allow optimum light transmission
A top flare to minimise wind damage
A perforated break line that ensures the tree is not constrained as it grows
DESIGNED IN "WEATHER-AGEING"

Our new Vigilis-Bio biodegradable tree shelters have been designed to "age" in the weather (from sun/rain etc) at a predetermined rate that is optimised for the UK's climate.

The materials of the biodegradable tree shelter will embrittle after approximately five years, such that, over time, the mechanical stresses from the subsequent growth of the tree or wind and rain will cause the tree shelter to fragment and break into small pieces and fall to the ground.

The timing of such "ageing" can never be exact and will depend on the geographical location of the planting site and the specific local conditions of the sun, shadows and moisture levels.


ASSURED BIODEGRADATION
All our novel tree shelters are made from polymeric materials that are either already certified as biodegradable in soil conditions or are currently undergoing laboratory testing to finalise such certification.
This testing establishes that the tree shelter material is broken down by the action of microbes and enzymes commonly found in UK soils and that there are no adverse ecotoxicology impacts arising from such a breakdown.
Biodegradation in soil is, by definition, a natural process and its rate is determined by a variety of parameters such as particle size, temperature, moisture and soil acidity. Whilst there can be no guarantee as to biodegradation rate, this testing assures that, in standard soil conditions, at least 90% of the original carbon in the tree shelter is converted to CO2 or microbial biomass within 2 years of contact with the soil.

Interested to know more?
Request to take part in the field trials
Register for CPD training sessions
Enquire for more information