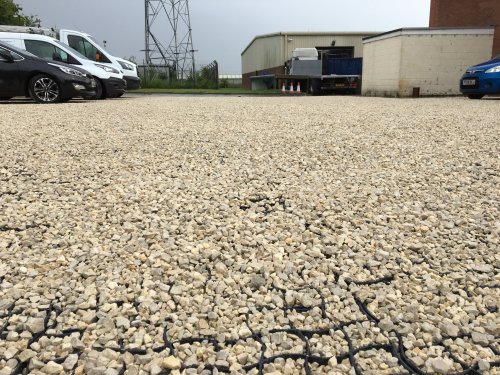 PP50 Car Park - Stallingborough, Grimsby
Car Park Solutions - Case Study
View PP50 Technical Documents
Challenge
Survitec is an expanding company located on a busy industrial estate in Grimsby. Parking on the estate has always proved to be a problem due to the lack of spaces available. As the business was growing, more staff members were being brought in, so the problem was becoming more and more acute.
Survitec wanted everyday car parking in all weather conditions, but it needed to be cost-effective as well as meeting planning conditions regarding no extra drainage being required. Survitec had some scrubland to the rear of the property which could solve the problem...
Solution
PP50 porous pavers with a gravel fill were chosen to meet Survitec's requirements. PP50 is a commercial, hard-wearing paver that is built to handle everyday car movements. A porous hard-core base was laid to support the PP50 and a mixed size angular limestone gravel was used for the bedding and fill of the pavers.
Benefits
Survitec now has a car park that can be used throughout the year. The new overflow gravel car park is completely self-draining, conforming to the latest Sustainable Urban Drainage requirements (SuDS).
Overall costs were reduced because no extra outlays for additional overflow drainage were required. The car park was designed to keep maintenance costs to a minimum and was in keeping with the surrounds.