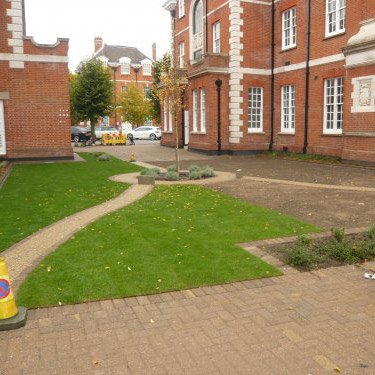 PP40 Fire Access Route - Hertford
Lawn Protection Mesh - Case Study
View PP40 Technical Documents
Challenge
To keep within fire regulations for all dwellings/work buildings, it is required that a Pump Action Fire Appliance (12.5 tonnes) or a Hydraulic Platform Fire Appliance (17.5 tonnes) must be able to get within 45 metres to all parts of a building. For this to happen, an access road at least 3.7m wide which can withstand the loadings imposed by the Fire Appliances must be constructed in order to get a Fire Permit. The fire access road also needs to comply with the latest SuDS (Sustainable Urban Drainage Systems).
The client wanted it to blend in with the surrounding landscape, so a grass finish was essential. There was a landscaped area between the buildings but it needed upgrading to be able to allow trafficking by the Fire Appliances.
Solution
PP40 Porous Paver is a plastic interlocking ground stabilisation grid that can be filled with soil to produce a grass finish. These permeable pavers are able to provide the required stabilisation capabilities and will allow rain and surface water to permeate through into the sub-base beneath. The fire access road was constructed using fully permeable materials throughout and will manage the passage of the fire appliances. The entire installation was completed over several days.
Benefits
When the installation was finished, the residents and the workers in the particular buildings were safe in the knowledge that, in the worst case scenario, a Fire Appliance could reach them whilst operating the equipment in the best and most efficient manner.
The fully permeable access route would not add to water runoff or requires additional costs in drainage. When the grass has grown fully and entangled with the PP40, It will have an appearance of a landscaped grass area and so in keeping with local demands for natural areas.