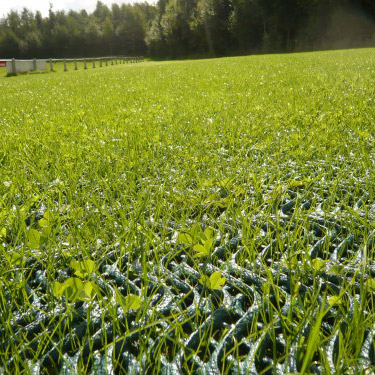 GR14 Car Park - Oulton, Leeds
Grass Cark park Mesh - Case Study
View Grass Reinforcement Mesh Technical Documents
Challenge
Rothwell Leisure Centre is a very busy establishment catering for many different sports, with several football and rugby pitches attached. Due to local pressures, some of the land was re-allocated to be used for much-needed housing for the elderly, The land that was earmarked for the new housing was currently being used for the parking for the external sports, so a new parking area capable of providing up to 50 car parking spaces had to be found.
Although the car parking was usually only needed two to three times a week, the seasonality of football and rugby peak times meant it would be busier during the cooler autumn and winter months. They also needed a solution that maintained a grass cover so it would blend in with the surrounding countryside.
There was a grassed field adjacent to the sports pitches which had a gentle slope and with a strong established grass growth which looked promising.
Solution
GR14 grass reinforcement mesh and a specially selected supporting geogrid plastic mesh underneath was the selected solution. Both products were laid at the same time directly onto the existing grass and they were then pinned to the ground. The entire installation was completed over several days.
Benefits
After the plastic grass mesh installation, the contractor allowed the grass to entangle with the plastic mesh filaments. The car parking area was ready within a few weeks and was able to offer grass car parking for the parents or players to drop-off, pickup, or stay and play or watch. The car park was able to meet the expected demands at a difficult time of year, at a cost that was affordable.
The combination of the GR14 Grass Reinforcement Mesh and the special geogrid support mesh together gave an enhanced and stronger footprint that enabled the area to withstand the required workloads caused by vehicular traffic.