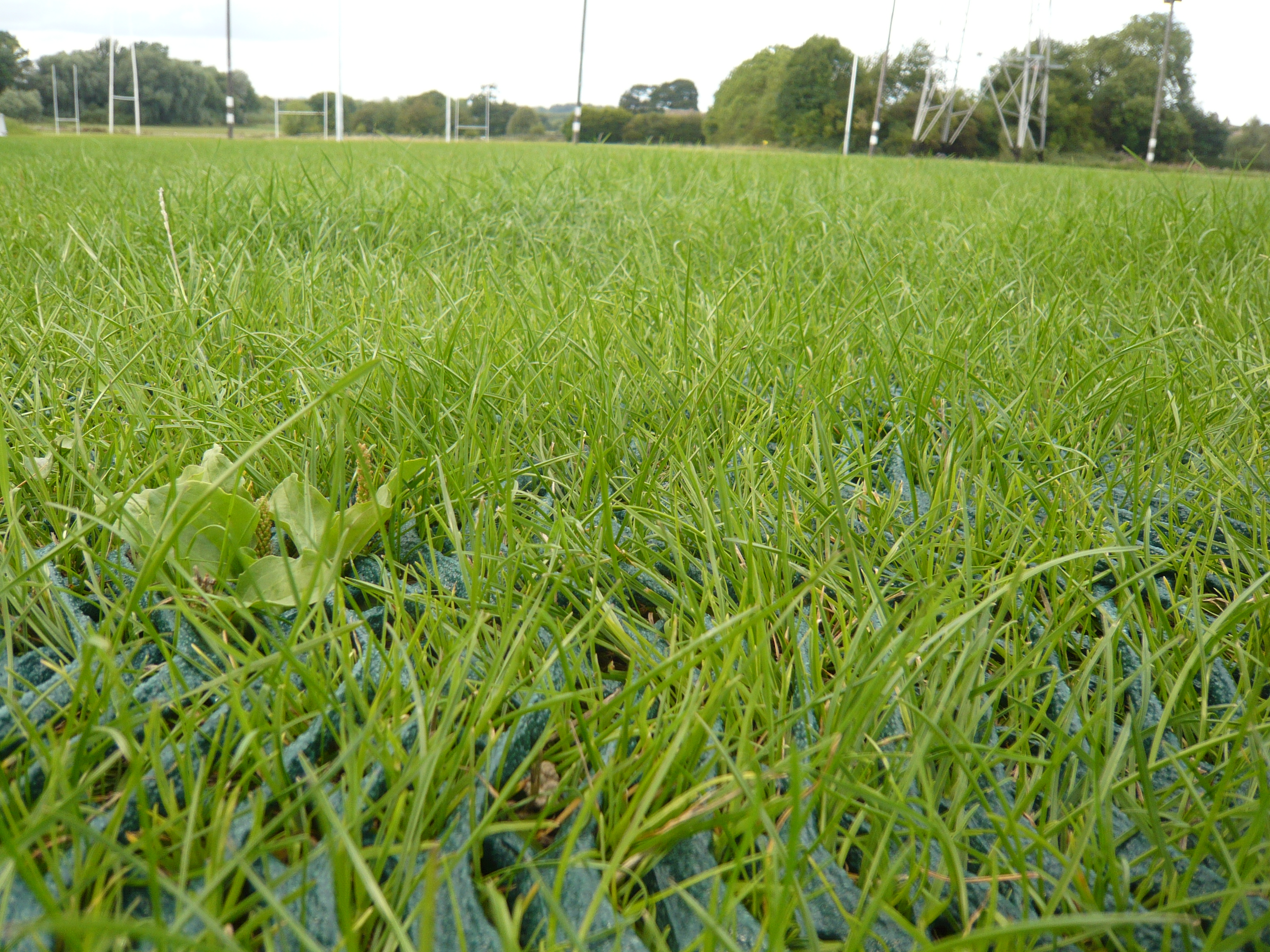 Grass Reinforcement Mesh Full Product Leaflet
Grass Reinforcement Mesh
Introduction to GR14 and GR11 & GR10 Protection Mesh
Suregreen GR11 and GR14 grass reinforcement meshes have been specially designed, using carefully selected high-density plastics, to allow permanent trafficking to grassed areas where and when this would not normally be considered. Our grass reinforcement meshes achieve this by reinforcing and protecting existing grass areas against traffic damage (both vehicle and pedestrian wear and rutting) whilst keeping the natural look of grass cover.
Grass reinforcement meshes will allow prolonged summer use as well as some winter use subject to factors such as frequency of use, type of traffic, nature of soil and drainage. This includes parking on a daily basis, disabled access and access to areas closed off in the colder, wetter months. Please contact our technical team for further guidance on whether our grass reinforcement solutions will suit your project.
Suregreen grass reinforcement meshes are used to provide many parking and access solutions where a grass surface may not have been previously considered.
Download GR Mesh Full Product Leaflet
---
Typical problems solved would include:
Daily car parking requirements
Overflow car parking requirements
Allowing off-road parking on grass verges
Access to grass areas normally closed off to trafficking
Minimising damage to highly trafficked grassed areas such as building site compounds
Temporary grass access routes
Protection to allow routing by golf buggies
Equestrian issues such as poaching and rutting at paddock gateways, walkways and feeding rings.
Event parking and pedestrian areas
Caravan / motorhome parking / holiday park applications
Installing GR14 & GR11 & GR10 grass reinforcement meshes is normally easy and trouble-free. The plastic mesh is laid onto the existing grass and fixed in place using steel U-Pins. If installed correctly and not used inappropriately, the expected lifetime of the grass reinforcement meshes should be 10 - 20 years.
The plastic mesh is UV-stable, rot-proof and the mesh will not degrade once in place. Please see our installation guide for instructions or contact our technical team for further guidance.
Suregreen GR meshes aren't just for permanent solutions - they are able to be installed for immediate use if needed for temporary applications. These would include grass access routes and building site compounds. Although not having the full working capacity of an integrated mesh, the effects of trafficking will be greatly minimised.
Suregreen GR10, GR11 and GR14 are fully permeable solutions and can be used as part of a source control system within a Sustainable Urban Drainage System Solution (SuDS). The natural drainage of the land is unaffected, as is the natural ecology of the soils.
Suregreen GR grass reinforcement meshes are available in two mesh thicknesses/grades and in various roll sizes:
Suregreen GR14 mesh is our heavy-grade 14mm thick, 2kg/m² product that is suitable for the more intensive/frequent traffic applications
Suregreen GR10 (10mm thick) and GR11 (11mm thick) mesh are our standard-grade products for less frequent and lighter applications or where economic restraints prevail.
Product Range:
| | | | | | | |
| --- | --- | --- | --- | --- | --- | --- |
| Product | Size | Thickness | Weight | Material | Colour | Part No. |
| GR14 Heavy | 2m x 20m | 14mm | 2kg/m² | HDPE (Part recycled) | Green | 430004 |
| GR14 Heavy | 2m x 10m | 14mm | 2kg/m² | HDPE (Part recycled) | Green | 430028 |
| GR14 Heavy | 1m x 10m | 14mm | 2kg/m² | HDPE (Part recycled) | Green | 430011 |
| GR14 Heavy | 2.5m x 15m | 14mm | 2kg/m² | HDPE (Part recycled) | Green | 437232 |
| GR11 Standard | 2m x 20m | 11mm | 1.2kg/m² | HDPE (Part recycled) | Green | 430042 |
| GR11 Standard | 2.5m x 5m | 11mm | 1.2kg/m² | HDPE (Part recycled) | Green | 434262 |
| GR11 Standard | 2m x 10m | 11mm | 1.2kg/m² | HDPE (Part recycled) | Green | 430059 |
| GR11 Standard | 1m x 10m | 11mm | 1.2kg/m² | HDPE (Part recycled) | Green | 430035 |
Recommended Products
Grass Seed
SKU: 990059-990066
Weight: 13kg-20kg
Blend: Three Perennial Ryegrass
Coverage: 50g/m2