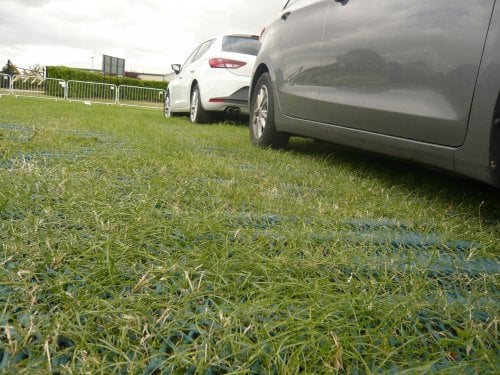 GR14 Overflow Car Park - Chatteris, Cambridgeshire
Car Parking on Grass Solutions - Case Study
View Grass Reinforcement Mesh Technical Document
Grass Car Parking Solutions
Challenge
MMUK is a thriving business that has gone from strength to strength. In doing so, MMUK has needed to increase its employee numbers to keep up with their customer demand. This has led to high pressures on car parking spaces, meaning cars were being parked in unsuitable places which sometimes blocked important access routes.
Their factory was built next to green belt land, so planning permission for new hard-standing parking spaces was almost impossible to get - well as being harshly expensive, and issues with water runoff would have to be dealt with. The next option was to look at a grass field directly next to the factory which could provide overflow parking.
Solution
The grassed field next to the factory is a flat, well-drained area with strong, established grass growth. The car park needed to be used throughout the year on most days and needed to maintain a grass cover so that the car park would blend in with the surrounding countryside.
The solution was GR14 grass reinforcement mesh and a specially selected support mesh underneath. Both products were laid at the same time directly onto the existing grass and pinned onto the ground. The entire installation was completed over several days.
Benefits
After allowing the grass to entangle with the mesh filaments, MMUK were able to offer overflow grass car parking for their staff on a daily basis, at a cost that was affordable and without planning permission delays.
The combination of the GR14 grass reinforcement mesh and the special support mesh together gave an enhanced and stronger footprint that enabled the area to withstand the required workloads.
Parking has become smoother and incident-free, without congestion and blocking of delivery access routes.