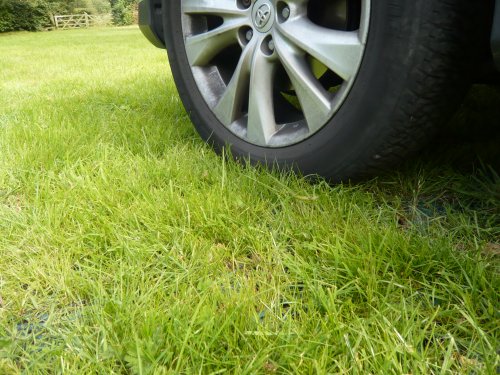 GR14 Overflow Car Park - Northwich
Grass Reinforcement Mesh - Case Study
View Grass Reinforcement Mesh Technical Document
Challenge
The residents of Great Budworth have had an ever-increasing issue with parking in the village. Over time, the recently constructed community and village hall had become increasingly busy, attracting extra cars to the immediate vicinity. Although not used daily, the hall is used all year round - but the adjacent roads are narrow, making extra parking demands difficult and impractical.
The only overflow parking area is on some grassed land close by. Although flat and well-drained, it was becoming easily rutted in the winter and during periods of heavy rainfall. Also, due to costs and the desire to be keeping with the local settings, hardstanding what not an option.
Solution
GR14 Grass Reinforcement mesh was chosen as the solution for this project. The mesh was installed over several days onto the existing grass. The mesh was then encouraged to entangle with and become bonded with the grass this forms a single strong grass mat. The grass was cut at regular intervals allowing the cuttings to fall back into the mesh.
Benefits
The residents now have a viable parking area which can be used all year round in most weather conditions. The mesh has now almost disappeared into the grass and the so the dual objectives of keeping the grass looking like grass and the costs to a minimum became reality. Parking at times of peak demand has now become smoother and incident free without congestion and blocking of driveways.