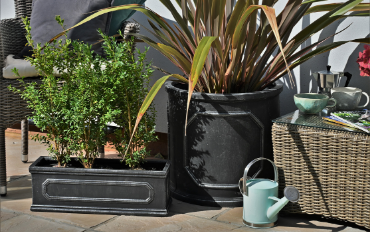 Top 5 Reasons to Use Planters in Your Garden
Spruce up your garden using our Faux-Lead Planters! In this handy guide, we'll be giving you our top 5 reasons why you should be using planters.
1. Easy gardening for beginners
It can take some time and practice to get it right when you are gardening in the ground. Whether it's weeds, pests or changes in the weather, there can be a lot to consider! That's why planters are a great place to start. Although they still require some maintenance and care in choosing the right soil to allow your plants to thrive, it is considerably easier to master than gardening in the ground. You can check out our full range of compost and growing media here and find out which soil is right for your plants. We stock Melcourt's award-winning SylvaGrow Multipurpose Compost, TopGrow Planting Compost, Potting Grit, Farmyard Manure and much more!
2. Adds height to your garden
Planters are an excellent choice to add height and drama to your garden by being planted with trees or shrubs. Why not try planting bay trees in our Chelsea Cube Planters, or even topiary balls in our Lion Head Tall Square Planters? They're great for framing entrances, too! Simply place the planters either side of a door or entrance to create an inviting look.
3. Great for creating visual boundaries
Create visual boundaries by using our Chelsea Trough Planters to divide your garden area into zones. Trough Planters are the perfect solution for growing plants that are not as well displayed in other flower containers. Choose from perennials, succulents, annuals, and alpine plants for a vivid display.
4. Suitable all year round
Another great reason to use pots and planters is that you are not so dependent on the weather for them to thrive. You also have the option to move the planters inside (or into a shed or greenhouse) over the cooler months, as well as being able to reposition them in your garden to gain maximum exposure to sunlight throughout each season.
5. Ideal for landscaping smaller gardens
Planters are ideal for landscaping when you are short on space, as they allow you to display your shrubs in any environment with access to sunlight. So, whether you've got patio, decking, or even a balcony to work with, you can still enjoy gardening and bring the area to life by using pots and planters!