Information Guide on Suregreen Tanalised Timber
Tanalised / Pressure Treatment Guide
Tanalised timber, or pressure treated timber, are two names given to describe the same process; in which timber undergoes a pressurised chemical treatment to preserve the wood. Commonly, this process is used on softwood to improve life expectancy and make the timber more resilient to rot, fungus, mould, insect attack and general harsh damp weather conditions. All of Suregreen's softwood timber has been tanalised treated to UC3 or UC4 to ensure they are protected for many years.  UC4 is more vigorous and penetrative than the UC3 treatment, making it longer lasting.
The main active ingredient in the tanalised timber treatment process is called Tanalith E which is one of the most popular and commonly used brands of wood preservative, hence the name "tanalised treatment". Although this is a chemical treatment the timber is still perfectly safe and can be cut and used around children and animals, making it perfect for both domestic and agricultural applications. The UC3 tanalising process itself can be broken down in to five main steps:
The timber is loaded into a large treatment tank and put under a vacuum
The tank is then completely flooded with wood preservative
The tank, whilst full, is then put under hydraulic pressure forcing the preservative deep in to the timber
The tank is then drained and the vacuum broken, allowing the low pressure inside the timber to draw in any remaining preservative
The timber is left to dry naturally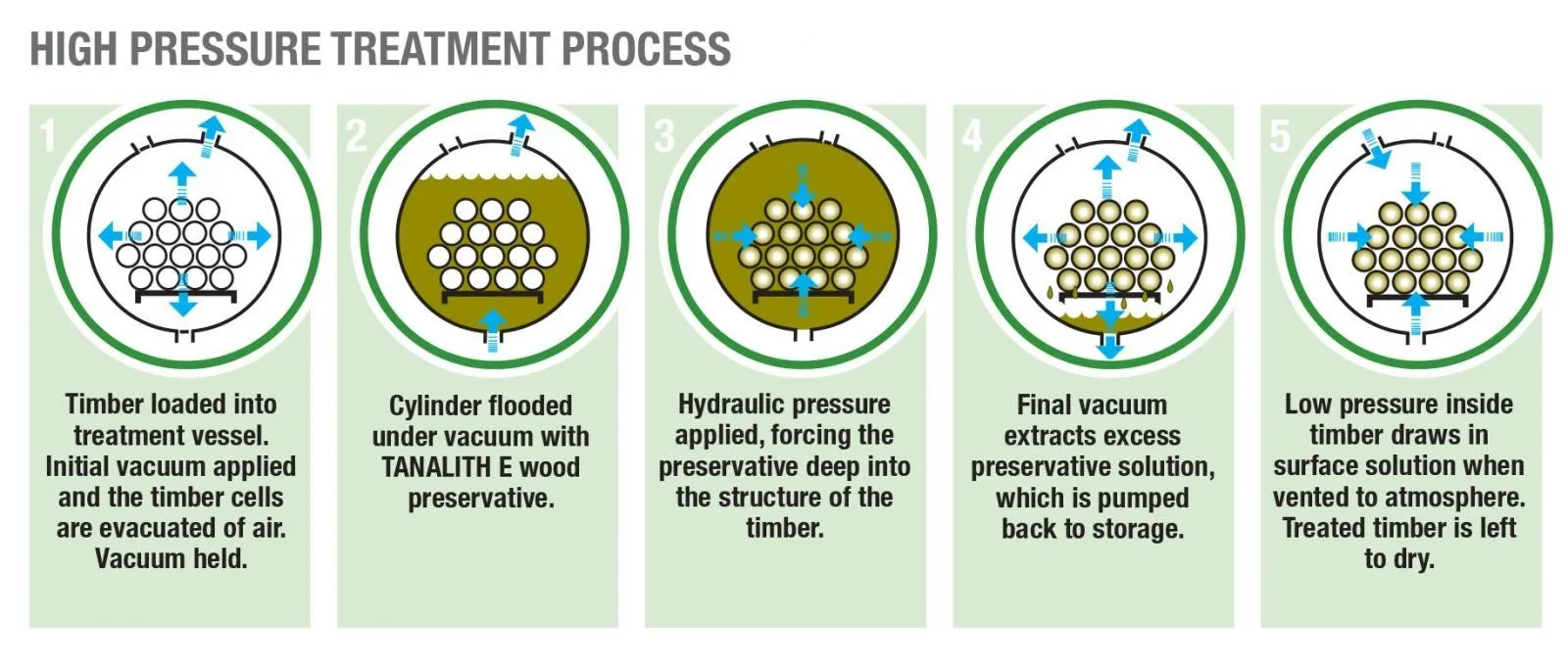 We also supply timber that has been UC4 tanalised treated that have undergone a vigorous tanalisation process.  The UC4 treatment involves the timber being kiln-dried so that the moisture content is reduced to around 28%.  The preservative is then added to the timber hwile being put under hydraulic pressure to ensure deep penetration of the preservative.  This more in-depth treatment ensures the posts will hae an extra long life outdoors - approximately 10-20 years.
Please note that there are alternatives to tanalised treatment on the market, one of which is dip treatment. It is still using similar preservatives however without the pressurised vacuum forcing the preservatives deep into the timber. Dip treatment will not offer the same level of protection or life expectancy as tanalised treated wood.