HOW TO CLAIM YOUR FREE CHILLY'S BOTTLE*
To show that we value your business we want to reward you with a Chilly's Bottle to keep you warm this winter when you purchase from us.
---
*To qualify you need to have a registered business account with us and spend more than £2000 ex. VAT between 01.01.23 and 28.02.23. You will then receive a FREE Chilly's bundle consisting of a 500ml water bottle and 340ml coffee cup.
Keep your drinks hot for hours with Chilly's double-walled technology.
---
This promotion is ONLY valid for customers with an active Suregreen trade account.
This promotion is ONLY valid from 01/01/23 until 28/02/23.
Eligibility for the prize (Chilly's Bundle) is determined by the value of the orders placed within the specified promotion dates.
To be eligible, the account's orders must:
- Must have a total, combined order value greater than £2000 ex. VAT.
- Must be paid and confirmed orders.
- Must have been placed between 01/01/23 and 28/02/23.
Canceling or refunding orders will invalidate your eligibility.
Customers must be subscribed to Suregreen's mailing list.
Eligible customers will be notified soon after 28/02/23.
If you want to set up a business account or check if you are already enrolled please contact us on 01376 503869.
FREE Chilly's Bundle if you spend at least £2000 ex. VAT between 01.01.23 and 28.02.23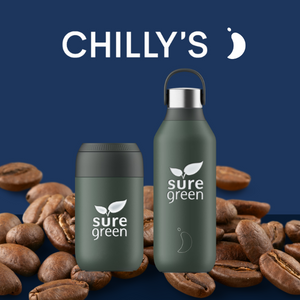 The Series 2 Chilly's Bottle is soft-touch with an anti-microbial drinking collar and carry handle to make on-the-go drinking easy. The Series 2 Coffee Cup features a rotating lock mechanism for secure sipping and double-walled technology to protect your hands from the heat. Keep your coffee hot and your water cold with this stylish bundle.
RRP: £67.00