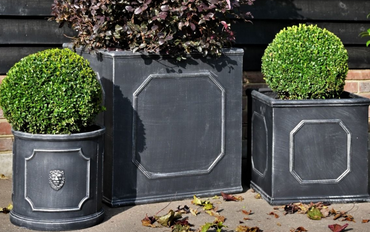 8 Winter Garden Planter Ideas
The onset of winter doesn't mean you have to neglect your garden. There are a multitude of benefits to continuing to nurture your plants throughout the colder, darker months of the year.
Read on for some simple, yet visually appealing, garden planter ideas to add a splash of colour to your outdoor space and lift your spirits on a dull day.
With the Suregreen planter range discounted by 65% for Black Friday, you can jazz up your garden this winter without breaking the bank. All of our planters are frost-proof, UV stabilised and have a drainage hole at the bottom to prevent the soil from getting too waterlogged. They are made from fibre clay which is durable, yet lightweight. Browse our entire plant pot range here.
1. Bee-friendly winter plants
Given the mild weather we've been having recently, not all bees have gone into hibernation yet. Some bees also emerge during the winter months, therefore, providing them with a nectar source is vital. Bee-friendly winter plants include Winter Honeysuckle and Clematis. Winter Honeysuckle has a lovely scent so it's best enjoyed in a pot near a pathway or door for you and your guests to enjoy. Ensure you choose a large pot and provide a support structure for the plant to climb.
2. Add some colour to your garden
Brighten up your garden with some Winter Violas. They are delicate and colourful, yet hardy enough to survive frost and snow. Position them in a sunny spot in a stylish plant pot. If you plant them in November, place them closer together to help them cope better with the cold weather.
3. Snowdrops
November is the ideal time to plant Snowdrop bulbs and they will flower in late winter. They can grow well in pots as long as the soil is well-drained but moist. Ensure you plant them about 4-6 inches deep into the soil and transfer them from the pot into the ground after approximately 2 years.
4. Evergreen Conifers
Conifers are ideal for planting in pots - they are evergreen, thus providing colour and structure to your garden all year round. Ensure you choose a pot large enough to allow growth over a couple of years. They can be planted at any time of the year, as long as the soil isn't waterlogged or frozen. Choose from our selection of round, square or tall planters.
5. Fruit Trees
November is the ideal time to plant fruit trees, including apple, plum and pear trees. Purchase a bare-root fruit tree, separate the root and soak them in water for a few hours. The tree can then be planted in a pot - ensure it has enough space to allow for two 2 years of growth, along with a drainage hole. We recommend our largest planters for trees.
6. Winter Vegetables
You may consider spring and summer the ideal time to grow your own fruit and veg. However, this can be continued throughout the winter months. During November, you can sow broad beans, spring onions, leeks, garlic and more in garden planters to harvest in early spring.
7. Plant Spring Bulbs
Get a head start by preparing your garden for spring now and you can reap the rewards come early March. Create a carpet of colour in your pots by planting dry Tulip bulbs during the month of November. Around 12-15 bulbs would be perfect for a 45cm container. Position them in a sheltered spot if you can.
8. House plants
Garden planters are also suitable for indoor use - the extra small and small pots are perfect for young houseplants - whether you've got a Cactus, Dracaena, Monstera, Peace Lily, Orchid or Spider Plant - the drainage hole will prevent the soil from going mouldy and waterlogged. Our stylish pots in a variety of designs will complement your house plant collection.
Shop the Suregreen Black Friday Planter sale now before stock sells out and grab a bargain.